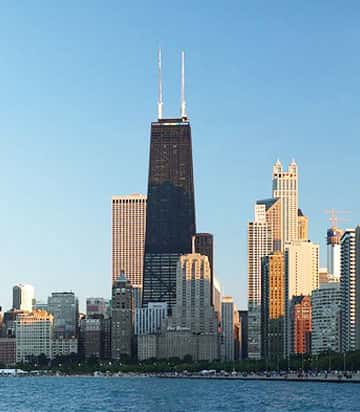 Looking for a Chicago O'Hare Airport car rental? Then you've come to the right place. We offer a wide selection of rental vehicles, which include car categories like minivans, hatchbacks, sedans, sports cars, convertibles, hybrids and even SUVs. Our booking engine offers an easy 3-step booking process that allows anyone to book a cheap car hire for Chicago O'Hare Airport within a few minutes.
In order to offer maximum benefits to our customers, we work closely with all the major car suppliers at ORD Airport, including names like Alamo and Dollar. Our booking experts negotiate directly with these suppliers to secure you the best deals at the lowest possible prices. Book your Chicago O'Hare Airport car rental today and enjoy exclusive discounts and special benefits.
Chicago O'Hare Airport (ORD) Information
Chicago O'Hare Airport (ORD) is located about 20 miles from the Chicago downtown and is well-connected by a network of roads. It features 4 terminals and 8 runways, together handling over 2,700 flight operations every day. Since ORD Airport shares a close proximity to all the major freeways, it offers a wide range of passenger facilities. While several leading airlines operate at Chicago O'Hare Airport, the American Airlines and United Airlines use ORD Airport as their primary hub. Likewise, O'Hare Airport is also a focus city for the Frontier Airlines and Spirit Airlines.
Chicago O'Hare Airport (ORD) Facilities
Money

All sorts of financial facilities are available at Chicago O'Hare Airport. Having said that, there are full-service banks, automatic teller machines and currency exchange kiosks within the airport terminals.

Communication

'Boingo' offers Wi-Fi internet services at O'Hare Airport. These services are free for the first 30 minutes, but after the limit exceeds, one has to upgrade to a premium paid plan in order to access the internet. Additionally, public telephones and 'power stations' for charging your electrical devices are also available in all the 4 terminal buildings.

Food & Drinks

A prolific range of food options, including restaurants, fast-food outlets, cafe, and bars, are available at ORD Airport. Though every terminal houses several eateries, there are certainly more options available in the Terminal 5 when compared to other terminals. Likewise, cafes and vending machines are present before the security screening of every terminal.

Shopping

When it comes to shopping, there are countless options available at the Chicago O'Hare Airport. These shops range from bookshops to newsstands, confectioners, merchandise, electronics, watches, sunglasses stores etc. Apart from that, duty-free shopping facility is also available in terminal 1,2 and 3.

Car Rental Desks

You'll find the service desks of car hire companies on the lower level, near the baggage reclaim area in Terminal 1, 2, and 3.